MISystem推扫式高光谱影像分析系统
  spectral range of the sensor. The VNIR (Visible-Near-Infrared) range is 400-1000nm; the SWIR ...
  spectral range of the sensor. The VNIR (Visible-Near-Infrared) range is 400-1000nm; the SWIR (Shortwave Infrared) range is 900-2500nm. The key to spectral data is calibration; well-calibrated datasets can be compared and analyzed over time and between multiple users. There is an existing and significant body of spectral analysis, classification and mapping algorithms and software available to work with spectral data. Most of this software has been developed over the last 20 years for satellite remote sensing and is easily available.

  The job of the hyperspectral sensor is to collect image data and then assemble this valuable information into a 'datacube,' which represents a data set that includes all of the spatial and spectral information within the field of view. The datacube is used by research teams to more thoroughly evaluate documents and other artifacts that will greatly enhance knowledge of the spectral composition and uniqueness of these samples.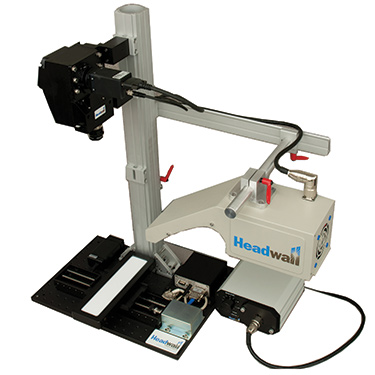 Headwall is the world's leading manufacturer of advanced spectral imaging systems. The Hyperspec® family of sensors are valued for key performance characteristics that include: 
  • Aberration-corrected optics
  • Wide field of view 
  • High spatial and spectral resolution
  • Very high signal-to-noise (SNR) 
  • Low stray light
  Typically (but not exclusively), Headwall's hyperspectral sensor will be configured into a Starter Kit™ for historical and cultural preservation work. The Starter Kit™ is a turnkey solution that includes a gantry to which the sensor is attached, a moving stage, proper illumination necessary for the spectral range of interest, and Headwall's advanced and easy-to-use Hyper-spec® III software. The kits are available in standard- and large-format configurations, and both VNIR and SWIR sensors can be used as image-data collection needs warrant.